News
September 23, 2020 Just appeared: The opera Dafne in lauro (FuxWV II.2.11 / K 308) has been published in our series Johann Joseph Fux - Werke in the publishing house Hollitzer-Verlag.
Johann Joseph Fux, Dafne in lauro FuxWV II.2.11 (K 308), ed. by Alexander Rausch with a literary-historical introduction by Alfred Noe (Johann Joseph Fux - Werke B/I/2), Vienna: Hollitzer, 2020.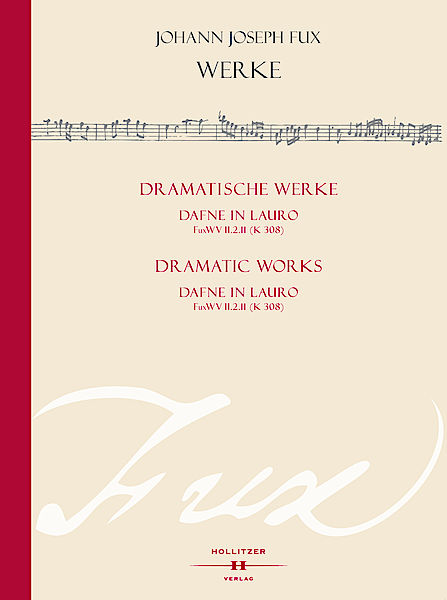 4.7.2020 Postcript to styriarte 2020: Opening concert on TV broadcast on ORF III (July 4, 9:00 a.m.) (ORF Mediathek, 6 days available), image gallery, reviews, opening and the Fux concerto still on video streaming and at July, 6 on Ö1 (radio broadcast)



July 1 and 2, 2020: styriarte 2020 NEW "Die Geschenke der Nacht" with Fux and Vivaldi at the opening: At the opening concerts the overture and arias from Fux' opera Gli Ossequi della Notte will be performed, which unfortunately cannot be performed in its entirety due to corona. Two concerts with a night topic - "Le dolcezze e l'amarezze della notte" E 112 by Fux and "La Notte" RV 104 by Vivaldi - complete the programme. The Fux opera was re-edited at the Austrian Academy of Sciences in a practical edition especially for the styriarte.
Artists: Maria Ladurner, Sopran (the Night); Valerio Contaldo, Tenor (the Sleep); styriarte Festspiel-Orchester; conductor: Alfredo Bernardini
Concerts: July 1 and 2, 2020, each on 6:00 p.m., 7:30 p.m. and 9:00 p.m., Graz, Helmut-List-Halle. - Admission and preliminary programme (with Spafudler) in the foyer 30 minutes earlier.
Programme and more information: https://styriarte.com/styriarte/styriarte-2020-reloaded/
styriarte.INTRO: programme talk by Mathis Huber (intendant of the styriarte) on youtube
July 1, 5:00 p.m., ORF III: Live-broadcast of the official ouverture event of the styriarte
from July 2, 2020, 6 p.m.: The opening concert of the styriarte, "Die Geschenke der Nacht" will be available on video streaming
July 6, 2020 2:05 p.m. Ö1: Radio broadcast

June 29, 2020 The Fux team is pleased that our Fux projects are again receiving project funding from the City of Vienna, Kulturabteilung, Wissenschafts- und Forschungsförderung (MA 7).

May 29, 2020: Graz, Apéro zur styriarte 2020 NEU: Presentation of the new styriarte program with music by J. J. Fux and A. Vivaldi / music from Mozart to Gershwin / Oldies for the night, with: recreationBAROCK, Alfredo Bernardini (dir.); Vienna Clarinet Connection; Eddie Luis and Die Gnadenlosen; Mathis Huber, moderation
April 2020: Preparation of English versions of the scientific texts for the practical series Fux concertato. The English texts will be put online successively. Due to the current corona lockdown, the official release via epub can only take place at a later date.
April 9, 2020, 7:30 pm, Radio Ö1: Holy Thursday with the sepolcro Gesù Cristo negato da Pietro by J. J. Fux. Recording of the festival Resonanzen (January 2020).
The broadcast is available for 7 days in the Ö1-Radiothek.
January 24, 2020, 8:30 p.m.
Early Music-Festival
Resonanzen
at
Wiener Konzerthaus
under the motto "The Ten Commandments": Modern
premiere
of
Fux' oratorio Gesù Cristo negato da Pietro
with
Ars antiqua Austria
under Gunar Letzbor. - The
performance materials
are currently being produced by the Fux team at the ÖAW and will subsequently be published in the practical series
Fux concertato
.
The festival Resonanzen and Fux in the radio Ö1-Quiz (January 12, 1:22 pm)
Preview Resonanzen in radio Ö1: January 15, 7:30 pm
Radio broadcast: Holy Thursday, April 9, 2020, 7:30 pm, Ö1
January 17.-19, 2020, conference "Notensatz im 21. Jahrhundert. Entwicklungen und Perspektiven", Universität Mozarteum Salzburg. January 18, 4 PM, presentation by Ramona Hocker: "Fux und Sibelius: eine glückliche Symbiose? Barockmusik als notensatztechnische Herausforderung".
January 6, 2020 The 2016 published edition of Fux' Missa Sti. Joannis Nepomucensis has initiated an interdisciplinary research project on St. John of Nepomuk at the Institute for History of Art and Musicology at the Austrian Academy of Sciences. From 14-16 October 2020 an interdisciplinary conference on "Johannes von Nepomuk: Cult - Arts - Communication" will take place at the Austrian Academy of Sciences. Abstracts to kunstgeschichte@oeaw.ac.at are requested until 6 January 2020. The Call for Papers and details of the conference are available here.
On January 22, 2020 at 6:00 pm, Early Music Festival Resonanzen at Wiener Konzerthaus (Berio-Saal) with excerpts from Porpora's oratorio Il Martirio di S. Giovanni Nepomuceno. The oratorio will be performed during the conference as a cooperation of the Austrian Academy of Sciences with the Early Music faculty of the Musik und Kunst Privatuniversität Wien.
2019/2020 We are pleased that the work on the Fux edition and the development of Fux-online and the database are again receiving project funding from the City of Vienna, Kulturabteilung, Wissenschafts- und Forschungsförderung (MA 7).
December 25, 2019, Christmas with Fux: 11:00 AM Uhr Christmas service in St. Urban, Freiburg Herdern (D) with the Missa Corporis Christi by J. J. Fux and the Anthem "Behold, I bring you glad tidings" by H. Purcell.
Performers: Svea Schildknecht, soprano; Sibylle Kamphues, mezzo soprano; Hans-Jörg Mammel, tenor; Kevin Gagnon, bariton; Kirchenchor St. Urban, Kammerorchester St. Urban on original instruments. Direction: Christian Wunsch.
For this performance, score, vocal score and parts were edited which will be available in the online edition Fux concertato.
November 6, 2019 Release of a study concerning Fux in Wien[n]erisches Diarium: Ramona Hocker, "Wien[n]erisches Musikalium? Der 'Kaiserliche Hof=Capell=Meister / Herr Johann Joseph Fux' (um 1660–1741) im Wien[n]erischen Diarium", in: Wiener Geschichtsblätter 74, 3/2019, p. 245–258.
Book presentation at December 5, 2019, 5:00 PM, Wiener Stadt- und Landesarchiv, Vortragssaal. Further information here.
March 1, 2019 The programme for the Fux Festival in the styriarte for the years 2018–2023 is online. Every year, a Fux opera will be performed at the styriarte, including also some little-known compositions which will be presented in a modern premiere (Gli Ossequi della Notte, Psiche, La corona d'Arianna). The Fux team at the ÖAW continues the successful cooperation with the styriarte and produces performance material that will be published in the practical series Fux concertato. Particularly the previously unedited operas will be published as critical-historical editions in the Johann Joseph Fux – Works series.
2018/2019: We are grateful for the generous financial support of our editorial work by the Katholischer Medien Verein Privatstiftung (Graz).
---
Older contributions from this category can be found in the archive and in the list with past events.
---
Concerts
are listed in the menu "Events" and in the menus "Past events".
November 23, 2019, Konzerthaus Wien, 7:30 p.m. Schubertsaal: Musica Caesarea: Johann Joseph Fux - Der letzte barocke Meister. Ars Antiqua Austria, G. Letzbor.
---
Fux-online offers comprehensive information on Johann Joseph Fux (ca. 1660–1741), the most important composer of the Austrian baroque. It provides texts about Fux and Fux research as well as additions to the scientific edition Johann Joseph Fux – Works. For chosen works, practical performance materials (parts) are made freely available at Fux-online. In addition, the website offers link-lists to digitized manuscripts, portraits and other editions.
The contents of this portal are constantly being expanded. A database with a catalogue of works is in progress, which will enable a quick search for work numbers and titles. Relevant information for performance practice – such as keys, instrumentation and editions – is also recorded. A Fux bibliography is also successively built up along with the database, which can be used as a reference list until the searchable database is published.
For further information, comments and questions, please contact us at info[at]fux-online.at